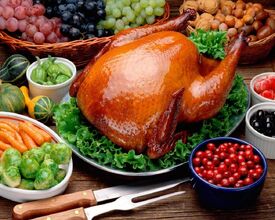 A Turkey Dinner was what Fred was preparing for his old buddy, a nightclub performer named Bowlegs (Scatman Crothers) and his sidekick in his "Zanies" act, a dancer named Al visited the Sanford residence in the Season 5 episode of Sanford and Son titled  The Stand-Ins. When Bowlegs reminded Fred that his favorite food was prime rib, Fred hurried and made that, too, prompting Al, Bowlegs's performing sidekick, to say "That's the first time I had prime rib and turkey for dessert!"
Ad blocker interference detected!
Wikia is a free-to-use site that makes money from advertising. We have a modified experience for viewers using ad blockers

Wikia is not accessible if you've made further modifications. Remove the custom ad blocker rule(s) and the page will load as expected.