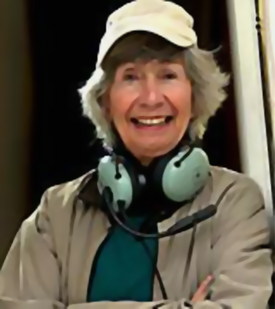 Reva Rose
(born July 30, 1940 in Chicago, Illinois) appeared as Mavis Johnson with actor
Britt Leach
as Mr. and Mrs. Harold Johnson, whom Fred Sanford tries to sell his earthquake racked junkyard to in the
Sanford and Son
episode titled
Earthquake II
. Reva is a veteran actress of TV, theatre and film, best known for playing Lucy van Pelt in the Off-Broadway production of Clark Gesner's
You're a Good Man, Charlie Brown
.
As a stage performer, Rose starred alongside Gary Burghoff (better known to TV viewers as Radar O'Reilly from M*A*S*H) and Bob Balaban in  1967 Off-Broadway run of the playYou're A Good Man, Charlie Brown[1]. Reva won a Theatre Award and a Clarence Darvent Award for this role. Rose also appeared in the 1959 Broadway musical Look After Lulu, coincidentally playing the role of Rose. In 2002, she played Tessie Greenglass in Worse Than Murder, a play by Lou Shaw at the Ventura Court Theater in California.
Television and film
Edit
After appearing on the Mister Ed TV series in 1961, Rose has guest starred on many television shows, including Pete and Gladys,That Girl, The Partridge Family, Mannix, Mary Hartman, Mary Hartman (as coach's wife Blanche Fedders) and To Rome With Love. She also had a frequent role on Temperature's Rising,as Nurse Mildred MacInerny. Reva has also appeared in such films as Three in the Attic, If It's Tuesday, It Must Be Belgium, The Nine Lives of Fritz the Cat, and the CBS-TV series House Calls. More recently, she was in the 2003 film Exorcism, and on an episode of the TV series Rodney,  in 2006.
References
Edit
Reva Rose at the Internet Movie Database (IMDb)]
Ad blocker interference detected!
Wikia is a free-to-use site that makes money from advertising. We have a modified experience for viewers using ad blockers

Wikia is not accessible if you've made further modifications. Remove the custom ad blocker rule(s) and the page will load as expected.