Howard Platt played the part of Officer "Hoppy" Hopkins on Sanford and Son, as well as its spinoff series, Sanford.
Vital Information
Gender:
Male
Ethnicity
Caucasian (White)
Occupation/
Career:
LAPD Police officer
Character
description:
Befriends Fred, Lamont and the others
Rather talkative, somewhat jovial partner of Officer "Smitty" Smith
Seemingly diwitted at times, but still dedicated and decorated police officer
Family and Personal Information
Character information
Appeared on:
Seasons 2-6 ("Sanford and Son")
5 episodes on ("Sanford")
First appeared in:
Sanford & Son: in "The Shootout" in season 2 episode appearance
Sanford: in "The Ring" in season 1
Character played by:
Howard T. Platt

Officer Howard "Hoppy" Hopkins was an LAPD patrolman, and a friend of Lamont and Fred who often stopped by the Sanford residence on a simple social call, just to visit, often times while on a break while still on duty. He was usually paired with Officer "Smitty" Smith (Hal Williams) on Sanford and Son. Played by Howard T. Platt, Hoppy reappeared along with Smitty on the Sanford spinoff series in 1980.
Character description
Edit
The rather talkative, somewhat jovial Hoppy was in stark contrast to the much more serious, monosyllabic, humorless and solemn demeanor of his white officer predecessor, Officer "Swanny" Swanhouser, whom Hoppy replaced as Smitty's white partner in Season one. Hoppy had a tendency to ramble on and on, straying onto subjects he likes, while straying away from the subject at hand that was at first being discussed, from which it usually Officer Smith, or Smitty, or one of the others in that given scene, to set him back on track. Also portrayed as a bit of an incompetent buffoon, Hoppy is still portrayed as a still capable, good cop.
The working comedic line was always that Hopkins, being Caucasian, as well as Swanhouser, who preceded him as Officer Smith's partner, often would incorrectly use 'Jive' slang, which Smitty often corrected—e.g., "cold" instead of "cool" or "right up" instead of "right on." Both the by-the-book Swanny, and the ever-professional Hoppy would both deliver a speech filled with police jargon and big words, at which the often confused Fred and/or Lamont would turn to Officer Smitty, who would then translate Swanny's or Hoppy's speech into Jive. Later in the series's run, the officers often appear individually. Unlike Ah Chew and Julio Fuentes, Hoppy is usually able to keep free of Fred's insults, particularly when the subject of race appears through ethnic barbs.
Hoppy's mother, May Hopkins (Nancy Kulp), moved from back east in season four, and eventually moved into the Sanford Arms apartments, which made it easier for Hoppy to visit her on social calls, to have "milk and cookies".
Patrolman pairings
Edit
In one episode, "
This Little TV Went to Market
",
Officer "Jonesy" Jones
(
Bernie Hamilton
) appears with Hoppy in place of Smitty. In the sixth season episode
"The Hawaiian Connection - Part III"
, Smitty appears with his slow-witted new partner, Percy (
Pat Paulsen
). In
"The Reverend Sanford" episode,
comedic actor
Freeman King
appears as a police officer named Jim, presumably standing in for Smitty, but wit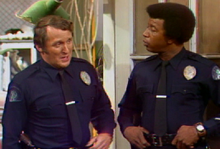 hout Hoppy or any other partner.